Financial Expertise
Solid financial projections are essential to evaluate the financial impact of potential business decisions, identify cash shortages,  and correctly asses when capital is needed to meet your growth goals. 
---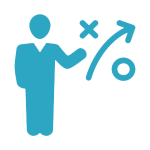 Whether your need is increasing your line of credit, financing a strategic acquisition or raising capital for growth, Lavin Group has the experience to help you achieve your goal.
When a potential investor or financial institution decides to invest in your business, they are betting on your success. Having an experienced team and a sound business plan including budgets and projections will present your business in the best light and inspire confidence from potential investors.
Regrettably, many business owners take it upon themselves to raise capital. Without guidance and an understanding of the complexities of obtaining external financing they often times realize after the fact that they "didn't know what they didn't know."
Lavin Group knows what to expect, we have been through the process and have a thorough understanding of the intricacies of growth financing. We not only will help you prepare the items necessary to present your business, but have a vast database of bankers and financial partners to help you find the right fit.
Our Process
Assess current structure and needs
Develop business plan and financial models
Evaluate financing options
Facilitate introductions to funding partners
Evaluate and negotiate term sheets
Monitor covenant compliance
Facilitate ongoing relationships with funding partners